On March 8 we join the world in celebrating International Women's Day. This year's theme is 'Break the Bias' and hopes to inspire people to work towards a world free of bias, stereotypes and discrimination; a world that's diverse, equitable, and inclusive.
The Authority has committed to operating inclusively, and as part of this work, the Office for National Statistics' International Development Team, alongside our partners at United Nations Economic Commission for Africa (UNECA) recently ran its first 'Women into Leadership' course in Kenya.
Emma Rourke, Director of
Health Analysis and Pandemic Insight at ONS, went to Nairobi to support the delivery of the course and wrote about her experiences…
When women come together to encourage one another, powerful things happen. So, when I was asked to support the Women in leadership for Statistics in Africa event this February, I could not have been more excited about the opportunity. 17 delegates representing seven African national statistical offices and the African Centre for Statistics at ECA attended, ready for a week of sharing expertise and mutual support.
This is the first Women into Leadership programme for statisticians in Africa organised by the ECA and ONS. The initiative is designed to give more women the tools they need to overcome barriers and progress into more senior roles in the statistical system. While this first event was in Kenya, it is intended that there will be future events in other nations.
The programme aims to create more diverse leadership teams capable of spearheading change and modernising statistics in Africa. Organisations that have high performing leaders are more productive and are generally happier places to operate in. A statistical system that values diversity and better reflects the population it serves, is the better for it. National Statistical Institutes need more women leaders. Our job is to apply the right questions to the data and interpret them with appropriate contextual knowledge.
Focusing on gender diversity in leadership, ensures we develop a more representative view of the world in which we live and work.
Supporting the programme is one way I expand and improve my own approach to leadership and problem-solving. Too often we can become entrenched in one way of thinking and discuss challenges with the same people which inevitably produces similar results.  This was a great opportunity to be exposed to others thinking. There were in depth discussions about performance management and career development. What should the approach to performance management be in countries where unemployment is high? How do you motivate someone who has done the same job for 20 years and has not expressed an interest in career progression or even performing at the required level? How can you best prepare for a meaningful career conversation with your line manager who doesn't want to talk about who you are beyond the work you deliver? We explored some approaches that I tend to find most effective, and applied them in the context of different cultures, exploring what were most likely to be effective.
It was a safe space; the 17 delegates shared their career and personal highlights and lowlights. The reasons for women not being sufficiently represented in leadership roles is well documented, and most, if not all were reflected in the discussion. The courage and the commitment of these women was extraordinary. Resource and cultural challenges can be significant, and the constraints within which these women operate to deliver for their country was inspiring.
Each had a story to tell about what it is like to be a mother, sister, wife, daughter, grandmother and an ambitious statistician for their country.
There was a generic experience that being a woman in a male dominated profession can feel constrained and, at times, disempowering. By sharing similar scenarios, we crowd sourced our solutions, exploring what would be most effective in one to one relationships as well as team leadership. The week provided an opportunity to think through the various strategies than enabled the women to visualise and plan the route to reaching their potential.
The week was punctuated with some inspiring presentations from colleagues in Africa with a range of perspectives. Special guests include Dr Vera Songwe UN Under-Secretary-General and Executive Secretary of the ECA, Oliver Chinganya Director of African Centre for Statistics, Ottilie Mwazi Deputy Statistician-General of Namibia Statistics Agency and MacDonald Obudho Director-General of Kenya National Bureau of Statistics. My thanks to each of them for their time and energy.
ONS is privileged to support this type of activity, using our position as world leaders in statistics to support positive developments elsewhere. Women supporting women is one of the most important and rewarding activities female colleagues can undertake. So, we will keep going and developing this agenda.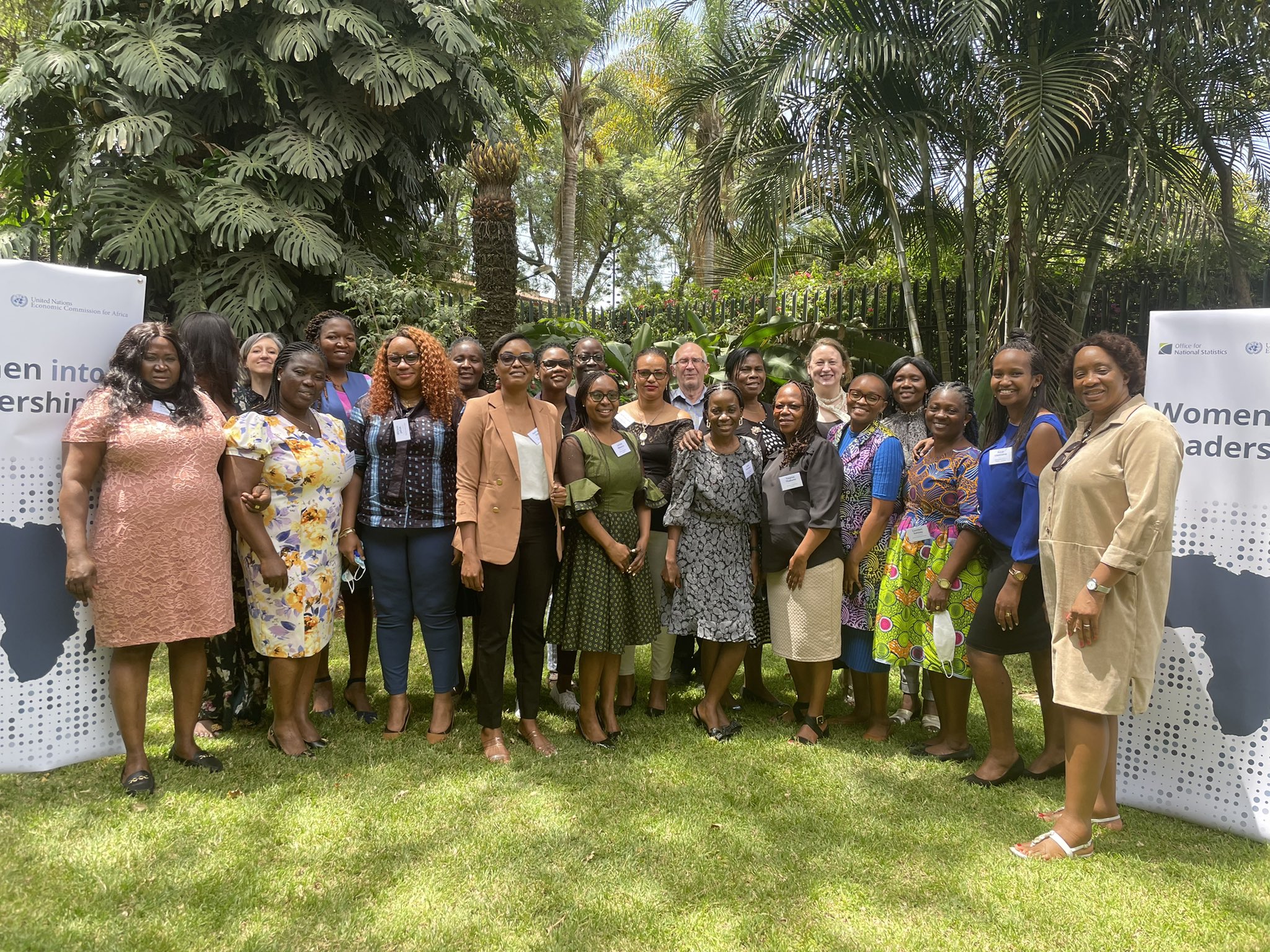 "Thanks ONS, ECA and all the courageous ladies who did not shy away from sharing their weaknesses their lows and highs for others to benefit. It was great meeting with you all"
"Thank you Team ONS UK ,UNECA. We learnt a lot and empowered to apply the takeaways at Stats SL"
"I really enjoyed with you team. Sharing our experiences. Hope one day we will meet and talk on how we have excelled in our organizations"
To find out more about the ONS's international development programme, including how it might be able to support your organisation, email international.development@ons.gov.uk or visit our 'Working Internationally' pages online.