A delegation of UK Statistics Authority colleagues, including the National Statistician and Director General for Regulation, visited Tokyo to sign a Memorandum of Cooperation (MOC) between the UK Statistics Authority and the Statistics Bureau of Japan (SBJ).
This agreement aims to strengthen the relationship between the two statistical bodies and encourage cooperation in areas of mutual interest including:
data science
use of big data and administrative data in official statistics
data access for users and researchers
official statistics regulation and quality control, and
statistical governance and legislation
The visit comprised two days of meetings and presentations with Japanese colleagues from statistical departments. This included two high-level meetings with Sakamoto Katsuhiko (the Director General for Policy Planning) and Saiki Shuji (the President of the National Statistics Centre) to discuss shared challenges and the importance of collaboration between Japan and the UK.
The MOC was signed on 17 May by the National Statistician, Sir Ian Diamond, and Inoue Takashi, Director General of the SBJ.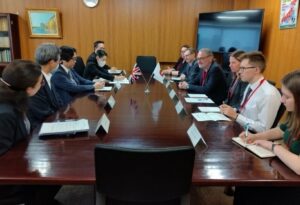 The visit has strengthened the Authority's working relationship with organisations across the Japanese statistical system and has provided a solid foundation for future work under the MOC.
A key outcome of this visit will be a plan of action, which establishes the next steps for the MOC. This will include a series of virtual seminars to delve deeper into topics discussed during the visit. The Authority will also be hosting a visit of the Japanese delegation in the UK later this year.
For more information on the Authority's international work, please visit the Working Internationally section of our website or email international@statistics.gov.uk.