The research framework in the Digital Economy Act 2017 is underpinned by the Research Code of Practice and Accreditation Criteria, which was approved by the UK Parliament in July 2018. As the statutory accrediting body, the UK Statistics Authority has established a Research Accreditation Panel to oversee the independent accreditation of processors, researchers and research projects.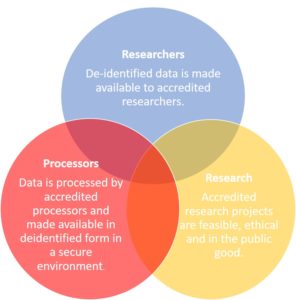 The role of the Research Accreditation Panel is to ensure that the process for granting access to de-identified data to accredited researchers under the Digital Economy Act is independent, consistent, and transparent. The RAP assess each project against the following criteria:
i.   Is there public benefit?
ii.  Is there demonstrable analytical merit?
iii. Is the project feasible?
iv. Are any relevant privacy implications sufficiently mitigated?
v.  Has the project successfully completed a formal ethical review?
The Panel also provides the governance of the accreditation of researchers and processors who wish to use the Digital Economy Act for the purposes and functions set out in the Act. This involves having oversight of the training of researchers, which researchers must complete to become Accredited Researchers, and the security standards, policies and procedures that processors have to comply with to become Accredited Processors.
Submitting a research project to the Research Accreditation Panel
Research project applications are submitted to the Research Accreditation Panel by accredited data processing environments at least one week prior to each Research Accreditation Panel meeting. Researchers are advised to liaise with support teams in their chosen accredited data processing environment to understand the requirements and timelines involved with submitting a research project to the Research Accreditation Panel.
Research Accreditation Panel Meeting Dates
22 October 2020
7 December 2020
19 January 2021
9 March 2021
Key Links
Accessing Data via the Digital Economy Act Research Strand
List of Digital Economy Act Accredited Processing Environments
Research Code of Practice and Accreditation Criteria