Executive Summary
The Implementation Plan summarised information on a wide range of 205 initiatives, categorised under eight Inclusive Data Principles, across government, civil society and academia expected to contribute to greater inclusivity of UK data and evidence.
Of the 205 initiatives almost 90% are now underway or already completed, while about 10% are delayed, discontinued or information about their progress was unavailable at the time of publication. Overall, this suggests strong progress has been made over the past year, although it's equally important to identify where progress has been more challenging and why this is, so that we can identify how barriers to success could be overcome.
Figure 1: Status of Inclusive Data Taskforce (IDTF) Implementation Plan activities  (Red, Amber, Green, Completed)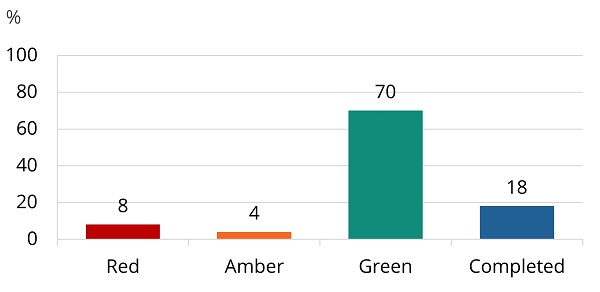 Source: Inclusive Data Taskforce activities
The eight Inclusive Data Principles outlined by the Taskforce are:
Inclusive Data Principle 1 – Trust
Create an environment of trust and trustworthiness which allows and encourages everyone to count and be counted in UK data and evidence.
Inclusive Data Principle 2 – Systemic Working
Take a whole system approach, working in partnership with others  to improve the inclusiveness of  UK  data and evidence.
Inclusive Data Principle 3 – Coverage
Ensure that all groups are robustly captured across key areas of life in UK data and review practices regularly.
Inclusive Data Principle 4 – Disaggregation
Improve the UK data infrastructure to enable robust and reliable disaggregation and intersectional analysis across the full range of relevant groups and populations, and at differing levels of geography.
Inclusive Data Principle 5 – Concepts
Ensure appropriateness and clarity over the concepts being measured across all data collected.
Inclusive Data Principle 6 – Methods
Broaden the range of methods that are routinely used and create new approaches to understanding  experiences  across the population of the UK.
Inclusive Data Principle 7 – Harmonisation
Harmonised standards for relevant groups and populations should be reviewed at least every five years and updated and expanded where necessary, in line with changing social norms and respondent and user needs.
Inclusive Data Principle 8 – Accessibility
Ensure UK data and evidence are equally accessible to all, while protecting the identity and confidentiality of those sharing their data.
Although all 205 initiatives described in the baseline implementation plan can make an important collective contribution to improving inclusivity across the UK statistical system, there are specific, often cross-cutting initiatives with the potential to contribute more significantly and sustainably to the step change in inclusivity envisaged by the Inclusive Data Taskforce. These include:
Harmonisation of standards and guidance for data collection in terms of the appropriateness and clarity of the concepts being measured, focusing on personal and protected characteristics
Adoption of strategies and approaches to improve the coverage of surveys and administrative data sources, and making increased use of the latter, to reach currently under-represented groups of the population
Transformation of the system for producing statistics about the population, with the recommendation to be made by the National Statistician on the future of the England and Wales Census following extensive public consultation in 2023
Development of the Integrated Data Service which will enable improved intersectional analysis through data linkage across Government
The Plan covers the period 2022 to 2023 through to 2024 to 2025. In March 2025 we will evaluate the impact that has been made and where further work is needed to continue improving inclusivity of UK data and evidence.
Back to top