How we align with the UKSA Strategy
The Office for National Statistics (ONS) is the executive office of the UK Statistics Authority (UKSA), meaning ONS shares the UKSA mission statement and strategy, Statistics for the Public Good. The ONS Strategic Business Plan sets out how we fully align and contribute to the achievement of the UKSA strategy.
The UKSA strategy has four strategic drivers (also known as 'pillars') that direct our work and delivery approaches, and these are explained in more detail below. The strategic objectives provide the link between the strategy (the drivers) and the Strategic Business Plan (our work).
Back to top
The Four Strategic Drivers
The strategic drivers that direct and support the ONS's contribution to the UKSA strategy are described below.
Back to top
Strategic Objectives
We developed a set of Strategic Objectives to provide the key link between the Strategy and our plans whilst being sustainable and relevant across the five-year strategic period. The updated Strategic Objectives are shown briefly in the table below, and in more detail in Annex B. Each aligns and contributes to all four strategic drivers, but their strongest association is shown in the table. Each Strategic Objective has outcomes and impacts that are captured in the organisational Theory of Change.
Back to top
Organisational Outcomes and Impacts
ONS has adopted and embedded impact evaluation principles across the organisation in line with the Magenta Book and requirements from the Evaluation Task Force (ETF).
Our organisational Theory of Change provides a framework for describing expected organisational outcomes, organisational impacts, and how they will be achieved through our programmes and wider activities. The high-level organisational impacts that we are aiming to achieve are as follows:
Increased proportion of decision-making & debate are informed by ONS statistics
The reputation of the ONS is enhanced
Users are more satisfied with ONS statistics
The ONS is more resilient and future-proofed
Each of our transformation programmes also have Theories of Change which align to the organisational Theory of Change and ensures spending decisions are linked to the UKSA strategy. This approach supports clear communication, drives greater accountability and improved delivery, and aids in the development of programme evaluations.
Back to top
Accountability Framework
Delivery is ensured through the ONS Accountability Framework. Each Director has a set of Accountability Framework Objectives (AFOs), supported by detailed milestones, that have been developed to deliver against the agreed priority areas and the Strategic Objectives. The AFOs cover all ONS activity such as business as usual and programmes, making up the ONS Accountability Framework, with performance monitored monthly.
Back to top
How our planning fits together
The figure below shows the key components and levels of the ONS planning landscape and how it all fits together.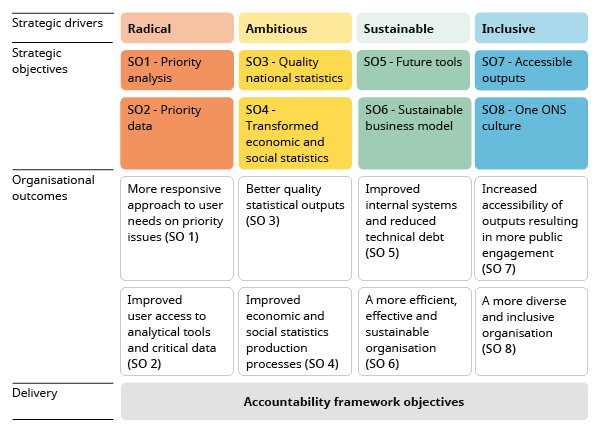 Back to top