Confidentiality and disclosure risk
The issue: Disclosure by location
Geospatial data often has complex sources and in some circumstances can be disclosive (revealing personal information) – either in its own right or in combination with other sources. An individual (X, Y) location can point at a single address or business. A small area can pinpoint a small enough number of cases to be disclosive. Critically, a combination of overlapping areas can also pick out a sliver which provides enough information to identify small populations. Remember that for these purposes businesses are due similar rights of data protection as individual members of the population, so many of the same ethical considerations apply.
Some data types are particularly sensitive. The locations of refuges or safe houses, for example are, by definition, sensitive and the greatest care must be taken in ensuring we do nothing to put vulnerable populations at risk.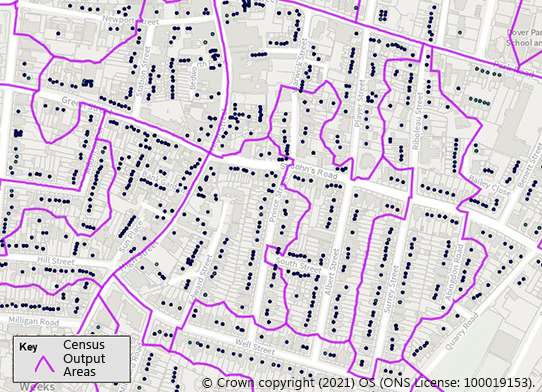 For rarer events or those where there are cross-tabulations, you could not release for this small a geography – the census uses LSOAs, MSOAs (see below) and even Local Authorities for rarer events.
You need to always think about your output geography and keep it under review as events change. As COVID-19 numbers declined in the spring of 2021, for example, the geography for which detailed case figures could be released was made larger by grouping together LAs.
Advice and possible mitigations:
Now that we have considered the issue of confidentiality and disclosure risk, alongside some case examples, here are some of the ways in which these risks may be mitigated:
Think hard about the geographies you are using for analysis and particularly outputs. Choose a non-disclosive geography for any outputs and perhaps consider using a statistical geography such as LSOAs or MSOAs – see the discussion above.
You should collect and store the minimum amount of data required for your work. Data should be reviewed as soon as possible, and appropriate methods used to de-identify and protect the data. These methods might include limited release of transformed data, the use of synthetic data and randomised response approaches. The use of secure research access schemes might be further used to protect the data.
Consider closely the provenance and potential limitations of any sources you are using. As far as possible, ask questions on how consent has been obtained for use of any personal data.
The collection and use of geospatial data for research and statistics should be transparent, accountable and communicated clearly to the relevant communities. This is particularly important where data relates to vulnerable communities.
Where consent can be collected for data use, procedures should ensure participant understanding of what is being collected when, why it is being collected, and what is being retained. To prevent misunderstanding and allay concerns, it may be equally important to emphasise what is not being collected.
Back to top